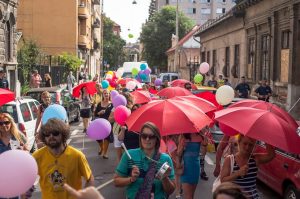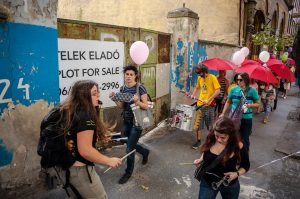 On September 17 The Association of Hungarian Sex Workers (SZEXE) celebrated its 15th anniversary. Balloons, red umbrellas, birthday cakes and positive atmosphere of the celebration were combined with discussion of the situation of sex workers in Hungary and work SZEXE does for sex workers rights.
The main goal of the event was to remind the local government of the 8th district of Budapest that is the main contributor to the law on tolerance zones for sex workers, as well as to remind the general public that although the local governments are required by the law to designate tolerance zones in their areas, they omit to do so, therefore thousands of sex workers are left in a legally vulnerable position.
The celebration started with a march, followed by a press-conference and finished with the cakes and champagne. The march was held in the 8th district of Budapest, as this was a place with one of the biggest concentration of sex workers in the past. Nowadays it is one of the poorest and segregated districts of Budapest with a big population of Roma and migrants, infamous for its 'ghetto' past.The march started around 2 pm in front of the district's local government's building and went through several streets to 'Aurora', the place where a press-conference was held. There were about 30 participants: SZEXE members, representatives of SWAN Secretariat, Amnesty International, HCLU, media. The people were holding balloons and red umbrellas. The birthday mood was also created by samba drumming performed by Rhythms of Resistance that supports among others the cause of sex workers human rights. SZEXE also invited several professional dancers to the march, who (females only) were accused by the police for public indecency for the way they were dressed. Female dancers' personal data were recorded on the spot, and police will decide if they initiate a legal proceeding. This happened for the first time on SZEXE's public event.