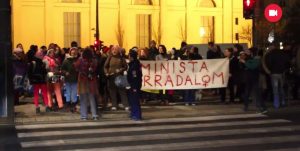 Yesterday the demo dedicated to the women's rights and position of women in society took place in Budapest. There were around 70+ people, several empowering speeches and great mood created by RoR and a lot of shouting!
Among others the people shouted slogans (both in English and Hungarian), such as:
– Feminista forradalom / feminist revolution
– Igy néz ki egy feminista / This is what a feminist looks like
– Szót a nőknek / Word to women
– Nem vagyok a gyerekgyár / I am not a children factory
– A nem az nem / No means no
– Isztanbuli egyezmény / Istanbul convention
– Egy virág nem elég, egy nap nem elég / One flower is not enough, one day is not enough
Below you can see a couple of links to media reports (in Hungarian) about the demo.